It is the pride and joy of every mother and chef to have a functional kitchen. Most house chores basically rotate around the kitchen and, more specifically, the sink. No wonder many plumbers recommend kitchen faucets that are both durable and reliable, more so for a very busy kitchen.
There are many things that a person should always consider when choosing a kitchen faucet. Some of these include the brand and the manufacturer, the flexibility of the Faucet, functionality, and, more often than not, the reliability of some of the spare parts.
For most people, some of the things they consider most important may include durability, convenience, design, or even how versatile the Faucet is. Whatever you deem necessary, we are here to provide you with a simplified guide of how to choose the very best Faucet with a sprayer.
We will be reviewing some of the best kitchen faucets with sprayers, and trust that it will be easier for you to make a consideration. This is particularly so for those looking forward to having an easier and better life when it comes to choosing a kitchen sink.
1

Delta Kitchen Sink Faucet 9113-AR-DST MODEL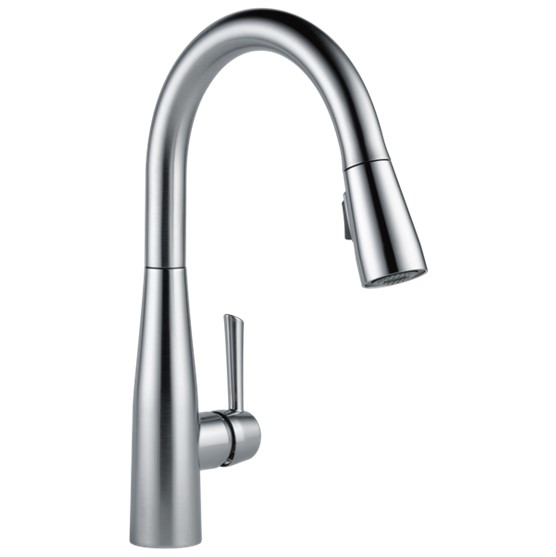 There are usually two types, i.e., the 9178-AR-DST model and the 9113-AR-DST model. However, the difference between the two is quite minimal since it's only in the build and the ultimate appearance.
As a brand, delta is ranked among one of the best companies in terms of its quality and durability and not just one type but all its kitchen faucets.
We will be majoring in the 9113-AR-DST model.
Key features
As a Pull-Down Faucet, it is one of the most elegant and impressive kitchen faucets ever built. It is made of solid brass, which makes it very durable, attractive, and classy.
The model is available in four different finishes, i.e., chrome, matte black, arctic, and spot shield stainless.
From its name, you probably know that this is a pull-down Faucet.
It has a high arc gooseneck that is about 20 inches and rotates at 360 degrees which makes it possible for use by all and at all corners of the sink.
It contains a dual-function spray that plays a key role in switching between the stream and the spray. This, however, only switches by prompting, meaning that if you leave it on the spray mode, it remains so unless you choose to adjust it to stream.
The handle is fixed so that it can't move back and thus makes it very easy for us. However, it can be swayed smoothly and flexibly on either side for ease of use.
The faucet spray is made with some soft rubber spores that are very efficient in helping to keep the debris off from the spray head. With only a touch of a finger, one can easily remove calcium and lime buildup.
Made of diamond seal technology. This makes the Faucet to be more durable and acts as leakage proof.
It has a lifetime warranty
Very easy to clean and maintain
Flexible to allow it to fit in bigger sinks
Has a magnetic docking that allows the kitchen sprayer to be snapped and docked in the right place and thus prevent it from drooping after prolonged use.
Easy to fit and install
It might have some of its components made with plastic, thus not as durable.
It is one of the most expensive kitchen faucets.
It might be a little wobbly after some time in the joints between the sink and the Faucet.
1

WEWE Single Handle Kitchen Faucet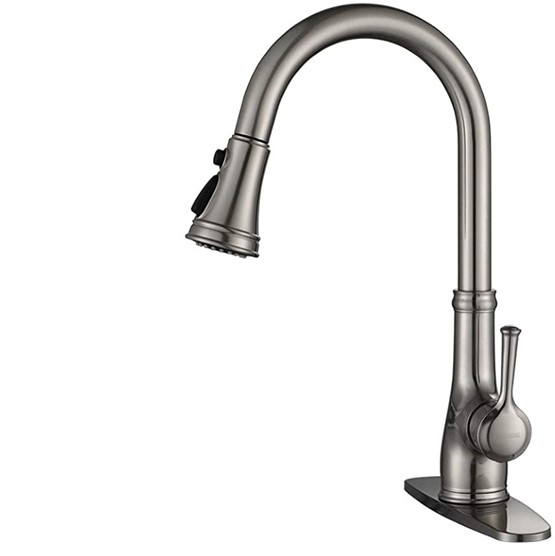 This is one of the most simplistic yet elegant designs of Faucet. Most people like to refer to it as the sleek design of the Faucet, which makes it look simple and easy.
It is made in such a simplified way and built with a high-arc tulip.
It has a three-way spray that is multifunctional and spins from stream to spray and then pause. These three plays distinctive functions. The stream is used for filling water, the spray is for rinsing, and the pause is the ultimate bridge between the two, which helps avoid splashing when the sink is being used in a multitasking mode. This means that it is possible to use either stream or spray without closing the handle after every use.
The design has a brushed nickel finish, and it is made with stainless steel.
The Faucet is designed to be very close to the sink, ensuring a good posture during use while helping to curtail visual fatigue.
The single handle is useful in helping control water temperature and allow for an easy flow of water volume.
The spray head is made so that it can always retract back to the spout after use.
Usually, the pull-down and the line hoses are preinstalled, making it possible for one to install the rest of the parts on their own at home. This may not necessitate the expertise of a plumber for the installation, but in a case where there's no clue on how to go about it, they might seek some little help.
The Faucet is made with a 3600-swivel spout which provides some space for washing access.
Has a beautifully sleek appearance
Single-handle control
Easy to install and maintain
Resistant to rust and corrosion
Has a three-way spray setting
Provides a full range washing access
It can fit in either one- or three-hole sinks
Affordable in terms of its price
The preinstalled parts might come a bit loose and thus make it less durable.
Because of the brushed nickel, it might need more maintenance
Lacks a magnet, and thus the spray head is not firmly held.
1

APPASO Matte Black Kitchen Faucet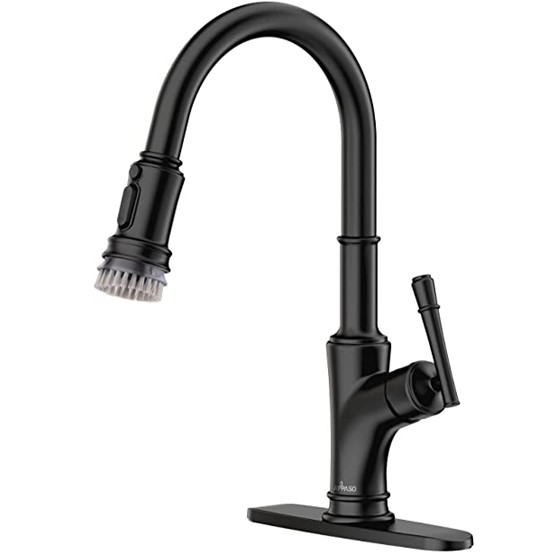 This is a kitchen faucet made with a magnetic dock that helps to hold the spray head securely in its place and helps prevent it from sagging.
It has a black matte stainless-steel finish that makes it look neat and elegant. It is also a good match for most kitchen appliances, particularly the sink and other décor since the color can easily blend. Some parts have a gold and black finish, which gives it an attractive look compared to other faucets.
One of the unique features of this Faucet is that the spray head has a soap dispenser that allows one to clean up with ease and with less struggle. It is one of the faucets that utilizes high pressure, and this makes it possible to conserve water.
Similar to the WEWE Single-handle faucet, it is made of resistant material to both rust and corrosion. It also has three-way sprays, i.e., stream, spray, and a blade sweep. Among the three, a sweep is the most powerful one.
The spray joint is made in such a way that its ballpoint junction allows a 360 degrees turn. This makes it easy to use in either part of the kitchen.
It is also made of some high-quality material which makes it very durable.
It has a magnetic dock that holds it firmly and securely, ensuring that it does not sag.
It is made of materials that resist rust and corrosion and can be long-lasting.
Because of its high pressure, it helps to conserve water.
It is easy to maintain and install
Unfortunately, it is made of plastic that connects the waterline and the hose and may not be as long-lasting. This may mean that the Faucet can begin leaking after a few months
If not used for a while, the spray head can be easily clogged
1

Delta Faucet Essa 9113-DST Pull-Out Kitchen Faucet: Touch activated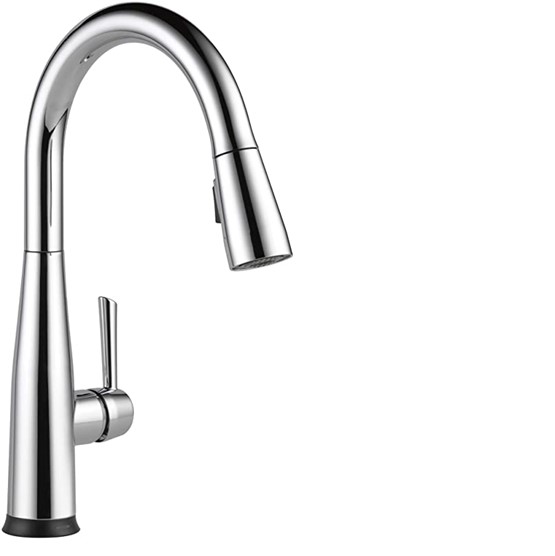 You can never go wrong with any Delta brand.
The Delta Faucet Essa is exceptionally made for affordability. Budget buyers are likely to have a swift ride with it because, despite its affordable prices, it's both functional and efficient.
Even limited in its design, it is elegant and has great features necessary for any faucet.
Key features
It is a pull-down faucet designed with an integrated magnet to pull the spray in its place and hold it in such a way that it remains docked, especially when not in use. This is what others will often refer to as the Magna tite Technology.
Even though it is very affordable, the model is well fitted with some quality Diamond seals that secure the connection between the cartridges and the supply lines. This helps prevent leakages after a few months of use, a common problem experienced by major Faucet.
One of the most unique features of this Faucet is that it is touch-activated, which allows water to flow seamlessly without necessarily having to open or constantly touch the handle. This is one precautionary measure that ensures that the Faucet is long-lasting and not prone to malfunction.
The Faucet is fitted with some touch-clean premium features that easily clear calcium and other mineral deposits. A few touches remove and clean the Faucet perfectly well and only in a couple of minutes.
The Faucet allows you to switch the temperature without any complication with just one handle. This also means that it can only be fitted in a single-hole sink.
Touch-on activation is a great investment that allows you to utilize the Faucet easily and prevent contamination and germs from one person to another.
It is easy to maintain and install and therefore saves you cost
It is affordable and readily available
Even though it has only one pull-out handle, it is long enough to ensure that it can reach all the corners and parts of your sink.
Easy to clean due to the touch-clean spray holes. This also helps save on money since there is no need to buy chemical cleaners.
The head has a magnet that firmly holds the Faucet, and it is docked safely when it is not in use.
Comes with a lifetime warranty
It has some plastic intertwined with some metal rods and may therefore get wobbly and start leaking.
The design is very simple and standard.
Factors to Consider Before Purchasing a Kitchen Faucet with a Sprayer?
There is a lot that a person should always consider, especially if their desire is to make and transform their kitchen into something functional, efficient, and elegant.
Because we know and understand how this tasking process can be, we have listed some of the essential factors you should consider. This will be important to help you meet your needs while benefiting from each feature and capability.
The Technology Utilized
Although it seems insignificant, technology is crucial for every person wishing to install a well-designed and functional faucet.
Technology such as Magna Tite and Diamond seal ensures that your Faucet lasts longer.
Through technology, new designs, water-saving techniques, and temperature control are all made possible. It is also easy to enhance convenience, efficiency, and ease of maintenance.
Faucet Finishing
You will never think of how important your faucet finish is until it's completely off with all your kitchenware. Having a faucet that accentuates and compliments your sink and other parts of the room is a great way to ensure neatness and beauty.
Whether chrome, nickel, bronze, or stainless, a great finish will always give your home a perfect look.
Availability of Spare Parts
Even though this might seem like a liability, buying a faucet with readily available spare parts is essential. A faucet with no spare parts is likely to become problematic in the future and might not serve them purposefully.
Price and Cost-effectiveness
For most buyers, price is the only dealbreaker. Therefore, it is important that when choosing a kitchen Faucet, one should consider different models available and be keen to pick on what they can afford. The beauty is that there are a variety of models to choose from and that which meets the budget and price expectations.
However, even when the price is such a great factor, one may need to look keenly at some of the premium factors that come with the model so that they don't miss out on something great.
Even though hardly mentioned or considered, it is important to consider the cost-effectiveness of a faucet, whether in terms of repairs, installation cost, or even availability of cheap labor in terms of plumbers.
Only put your money in something worthwhile which will serve you diligently and for longer periods.
Durability
No one wants to make a purchase over and over again. Everyone is always looking for something durable that will stand the test of time. Even for Faucet, this aspect is of great importance.
Even though most of the Faucets mentioned above are reliable and very durable, there are others that have been proved over time. This is particularly shown in the warranty provided.
Instead of buying faucets with metal and plastic, it would be prudent to only have metallic since they last longer. Most Faucet that uses plastic are also susceptible to different weather and might leak shortly after installation.
Final Advice and Verdict
There are many good, quality, and affordable kitchen faucets with sprayers. We have given you some basic features and discussed their pros and cons; what remains of you is now to make a practical choice.
In terms of brand, always go for any Delta. They are elegant and quite efficient, and they pride themselves on having a lifetime warranty. Does it sound like a good deal? Then go for it. However, most of the models discussed above are excellent choices with some outstanding performance.
Consult widely, do some background checks and reviews, and then choose. You are only a decision away from a beautiful and elegant kitchen faucet.
Please Rate This Article
SEND