Furnishing a new kitchen or remodeling your kitchen can be pretty challenging. It gets more complicated if you do not know what you are looking for and the finishes involved. And among the things you are going to look out for are kitchen sink faucets.
Kitchen sink faucets come in a myriad of finishes, and each type has its pros and cons. And choosing the best kitchen sink faucets goes beyond the aspect of functionality. You will have to blend functionality with appearance, longevity, and ease of maintenance.
Today, we will focus on various finishes and what would best work for you. Standard finishing methods available include brushed nickel, stainless steel, chrome, and satin nickel. While your focus should be on the general look you intend to achieve, each type of finish comes with various characteristics, merits, and demerits to help you make an informed decision.
Stainless Steel Kitchen Faucets
Stainless steel kitchen faucets are among the most popular in the market. They date back to almost a century and continue to dominate the kitchen fixtures market. Ideally, stainless steel is not a pure raw material for making faucets, as you may find in spoons and cooking pans. Instead, it is a coating or finishes for brass and steel faucets.
As a material, stainless steel features amazing wear-resistance, corrosion resistance, moisture resistance, and fire prevention properties. Such features make them pretty handy for kitchen or bathroom environments and other wet areas. Besides, stainless steel is famous for its mirror-like look, making it look impressive in your kitchen.
Advantages of Stainless-Steel Faucets
Corrosion Resistance- Arguably, the most significant advantage of stainless steel faucets is their impeccable level of corrosion resistance. They feature an impressive finishing consisting of a surface polished with a silvery luster using advanced casting technology. Notably, the result is a surface resistant to technology, wear, abrasion, acid, and alkali.
Lead-Free- Ideally, stainless steel neither contains lead, soluble metals, or exudates. Thus, you can rest assured that the water produced by these faucets is free from any impurities, pollutants, or have foul smells. Choosing stainless steel kitchen sink faucets will ensure that you enjoy healthy and hygienic water for various kitchen applications.
Friendly to the Environment- If you care about the environment, you will like that this faucet finish passes through an amicable production system. It does not go through electroplating, which makes the manufacturing less harmful to the environment.
Durability- You cannot fault stainless steel finished surfaces when it comes to standing up to the test of time. These models can last for about 100 years without fading or losing color with a bit of maintenance.
Spot and Smudge Resistant- If you are looking for a kitchen sink faucet that will stay immaculate even in a chaotic and busy kitchen environment, a stainless steel kitchen faucet is an incredible option. It is spot resistant, smudge resistant, and fingerprint resistant, making it look neat for long without frequent cleaning.
Disadvantages of Stainless Steel Kitchen Faucets
May Contain Some Toxins- While stainless steel faucets are reliably lead-free, they may still contain some level of unhealthy elements such as nickel and chromium. Although chromium is slightly harmful, the toxicity levels are not worth worrying about and have no adverse effect on the human body.
Chrome Kitchen Sink Faucets
Just like stainless steel models, chrome kitchen faucets are not fabricated from solid chrome material. Instead, they feature steel, stainless steel, plastic, or brass construction. Chrome kitchen faucets stand out as far as appearance is concerned. They feature an irresistible finish.
Advantages of Chrome Kitchen Faucets
Shiny Appearance- Undoubtedly, chrome finishes beat stainless finishes, hands down in terms of appearance. They take pride in a shinier appearance than stainless steel models, which is indeed their most significant advantage.
Modern- If you are a big fan of contemporary kitchen styles, chrome is your choice. Most faucets with chrome finishing are pretty trendy and will complement the rest of the décor in your modern kitchen. Coupled with the gleaming finish, it means incorporating a modern touch into your kitchen.
Versatile- Ideally, chrome faucets are trendy and available in a variety of models to meet various needs. You will easily find a model that meets your taste in style and functionality.
Disadvantages of Chrome Kitchen Sink Faucets
Show Fingerprints- The shiny surface of chrome kitchen faucets are not resistant to spots, fingerprints, and smudge. Thus, every slight touch will conspicuously show on the faucet body.
Difficult to Maintain- Chrome surfaces are shiny, and that's the good side of them. However, maintaining them is an uphill task. Any form of dirt will conspicuously show, and cleaning the surfaces off can be a stressful undertaking.
Not Durable- Although chrome faucets have an extraordinary appearance when new, this sleek look always fades in a few years if not taken care of properly. Chrome surfaces are not resistant to scratches and abrasion and will be fade off after some time and may need a faucet replacement.
Brushed Nickel Kitchen Faucets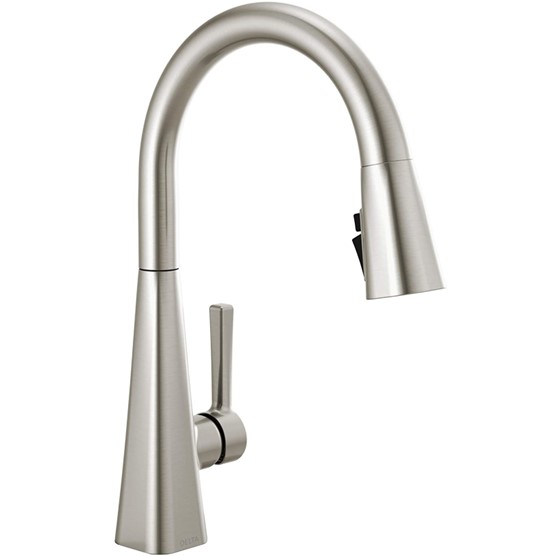 Just like chrome kitchen faucets, brushed nickel models are also shiny. However, while chrome sink faucets have a brighter and relatively more reflective shine, brushed nickel models have a shine that is slightly more muted. So, polished chrome surfaces will not only be shiny and bright but will also exhibit the ability to reflect light. The characteristic is a result of the electroplating often done over the surface of the base metal.
On the other hand, brushed metal faucets are relatively more subdued and feature a slightly matte appearance. The look and feel are a result of the wire brush treatment that dulls the shine with texture.
Advantages of Brushed Nickel Kitchen Faucets
Relatively More Durable- While this kind of finish may not beat stainless still when it comes to durability, it is more durable than chrome and oil-rubbed bronze. Therefore, you can trust brushed nickel kitchen faucets to maintain their soft metallic look for more extended periods. It is resistant to wear, corrosion, and abrasion.
Easy to Clean- Notably, you can clean brushed nickel finishes in a breeze. The surfaces do not show water spots, smudges, or fingerprints like other types of finishing. And when they do, you can easily clean them off and still enjoy the convenience and hygiene of clean cooking space.
Blends Well with Existing Décor- If you are looking for a faucet finish that will blend well with nearly all tastes of décor, you can count on the brushed nickel kitchen faucets. They are pretty easy to match with the rest of your kitchen fixtures, appliances, cabinetry, and cupboards. Besides, brushed nickel has a nostalgic traditional look. However, you will still find them perfectly easy to match with more modern appliances.
Disadvantages of Brushed Nickel Kitchen Sink Faucets
More Expensive- Notably, brushed nickel faucets are slightly more expensive than chrome and stainless steel models. However, they don't come close to oil-rubbed bronze and polished nickel models. Still, you may need to dig deeper into your pocket if you compare them with readily available options.
May Not Look Exemplary Alongside Stainless Steel- one of the things you would intend to achieve with your sink faucets is to make a fashion statement if your cabinet handles, cupboard knobs, and other fixtures in your kitchen feature stainless steel construction. However, that is impossible to achieve with brushed nickel faucets. And rather than being statement pieces, they will seamlessly blend.
Other Types of Kitchen Finishes
Although chrome, stainless steel, and brushed nickel are the most common and readily available, you can go a notch higher and find yourself more luxurious finishes in oil-rubbed bronze or nickel polished. Let us take a look at the two;
Polished Nickel Kitchen Faucets and Oil-Rubbed Bronze Kitchen Faucets
Polished nickel kitchen faucets are an alternative for chrome or polished nickel. Just like chrome faucets, they feature a smooth, shiny appearance. However, it is slightly darker than a typical chrome finish and will appear to change color depending on the intensity of lighting available in your room.
Polish nickel faucets stand out as pretty durable and less likely to fade. Besides, it is pretty easy to clean and will remain pretty outstanding in your kitchen. On the flip side, they are more challenging to find and way costlier.
Oil-rubbed bronze will give your cooking space a more traditional look. It is durable and pretty easy to clean. It is pretty sleek and will not show water spots, fingerprints, or dirt. However, oil-rubbed bronze faucets are the most expensive types of finishes.
Final Words
Choosing a kitchen sink faucet based on the type of finish can be a nightmare. Each type of finish comes with its pros and cons. Ideally, you need to make up your mind based on your personal preferences and your ideal styles. Also, price as a shopping factor will play a vital role.
Please Rate This Article
SEND