Whether you are upgrading your entire kitchen space, replacing an old fixture, or finishing up a new scullery, you need to choose a reliable, durable, and convenient kitchen faucet. But that is often easier said than done, as the proliferation of kitchen fixtures makes choosing the best kitchen faucet overwhelming.
No homeowner wants to end up with leaking or dripping faucets. Even more, you do not want a faucet that will fail or corrode after a few weeks of use. Who wants to experience the extra costs and inconvenience that comes with on and off repair and maintenance?
Now that you are here, choosing the best faucet should not be part of your worries.
As your reliable partner when it comes to kitchen eminence, we will make this process easy by discussing some of the factors you will need to consider when shopping for kitchen faucets.
Type of Mounting
The mount type is the first thing that you will need to look out for when shopping for a kitchen faucet or any other fixture, for that matter. While new sinks will probably give you extra freedom with this factor, it remains a consideration that you will need to look into whether you will use a new sink or not.
And when it comes to the mount type, the two types of options include;
Deck-Mount Faucets - These are by far the most common mounting types that you will find. In this case, the faucet mounts on the sink deck or a countertop.
Wall-Mount Faucets- You will probably consider a wall-mounted option when upgrading or if you want something more unique. However, you should note the location of your sink as well as the mounting studs on your wall. You can also ensure that you insulate your wall pipes and protect them from freezing if you live in areas that are prone to harsh winter conditions.
Number of Holes
The number of holes that a kitchen faucet comes with is also an essential consideration since it determines the fixture's compatibility with the sink. These fixtures will often require one, two, three, or four-hole configurations.
You can consider purchasing your faucet before you buy the sink so that you match your faucet to a sink with the corresponding number of holes.
But since that's always impossible with replacements or with existing sinks, you need to acquire a faucet that meets the sink's hole configuration. You could acquire your dream faucet but end up not using it due to incompatibility issues.
If your faucet requires more holes than the existing number on your sink deck, then you can drill additional holes. However, you will have to find out beforehand if your sink material allows for safe drilling.
Another exciting consideration concerning holes is whether you have more holes on your sink deck or countertop than what your ideal faucet requires. If only a single hole is left open, you can cover it by adding a water filter or a soap dispenser. But in situations where many holes remain unused, you will need to order escutcheons, deck plates, base plates, or faucet hole covers.
Size
The type of mount and number of installation holes are pretty vital considerations. But the next factor you want to look out for is the size of the faucet. And for the record, the size of your faucet will depend on the size of your since and what you intend to use the fixture for.
Therefore, you will need to know the faucet's overall height as this factor determines the sizes of cookware that you can rinse or fill with water when placed under the spout. If your kitchen uses large pots and cookware frequently, you will need to go for a high-arc model. These models have a spout height of more than 8 inches.
On the other hand, low-arc models have spout heights of less than 8 inches and are suitable for small sinks and small cookware.
The tallest types of faucets, often known as pot-filler faucets, bring a lot of ease and convenience to your kitchen. You can always mount them near stoves, and they come in handy for filling oversized pots.
Type of Faucet
The classification of faucets depends on whether they use washers or not. But more distinctively, it depends on the type of cartridge or valve that the system uses. Since this is a pretty topic that we already discussed elsewhere on this website, we will keep this section very brief.
The four types of faucets that you will find on the market today include ball faucets, disc faucets, compression washer faucets, and basic cartridge faucets. You can read more about their differences here.
The Handle
Kitchen faucets come with either single or dual handles. But you will also find an array of models that do not need any handling to operate. It is worth noting that the handles or sensors help control water flow and water temperature.
Let's look at the differences between the various models!
Double-Handle Faucets
Conventional faucets featured dual handles. These options still exist, of course, in more modern designs and better designs. Two-lever faucets feature two handles that control two different valves for hot and cold water. These handles are often either part of the base plate or separately mounted.
Pros
The temperature adjustment is more precise than in single-lever options.
The sprayer is separate and more efficient.
Cons
They are harder to install.
You may need both hands to operate these systems.
Single-Handle Faucets
Unlike double-handle options with two different levers to control hot and cold water flow, single-handle designs feature one lever that controls everything. This, you will conveniently use a single hand to control water flow and water temperature.
Single-handle models need installing away from the walls. So, check the distance to the window ledge or backlash to ensure that the handle does not hit what's behind you during rotation.
Pros
They take up less space on your countertop or sink deck.
They are easier to operate using a single hand.
Operating single-handle faucets is a breeze.
Cons
You may not achieve a concise temperature.
Hands-Free Faucets
The last category of faucets based on ways of controlling them is hands-free. These models do not need a control handle to operate. They can either be motion-oriented or touch-oriented.
Many motion-oriented models have sensors or activators at the front of the faucet and will easily turn on water flow by detecting water flow. Interestingly, most of these touchless options are hybrid and come with manual controls too.
Touch-oriented options, too, have sensors on the spout that activates water flow when you touch anywhere around the spout.
Pros
They are very safe and convenient for homes with children.
You can easily use them without dirtying the lever or faucet.
Cons
They can be inconvenient if the activator is behind the faucet.
Reachability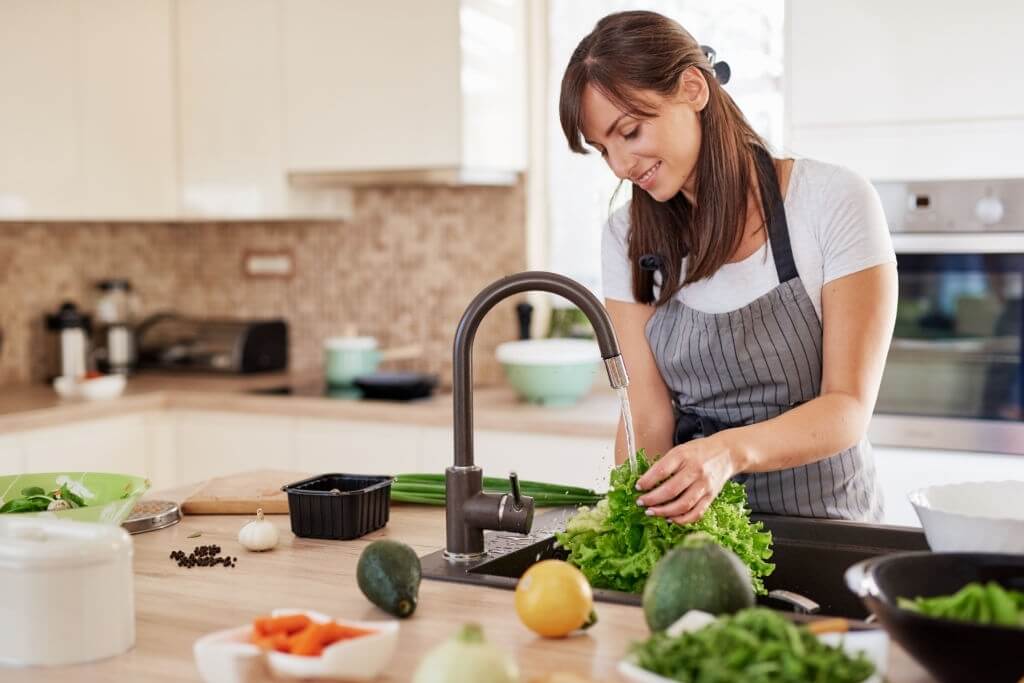 How far can your spout extend into the sink? Of course, many seasoned users take this very seriously as it determines how convenient your faucet will be. Ideally, this will also how far within your sink you intend to hit with the water stream. Some factors that will determine these include the hose's length and whether the system has a detachable spray head or not.
But for more convenience, modern manufacturers deviate from the conventional fixed-head varieties to create more convenient pull-down or pull-out options.
What do these mean?
Stationary Faucets
These models are typically conventional and come with fixed heads. However, these models come with side sprayers for more convenience. Since the side sprayers require mounting away from the main spout, these systems will often require an extra hole on the sink, hence a more arduous installation process and more plumbing lines.
Pull-down Faucets
These types of faucets feature inbuilt sprayers that operate as stationary spouts whenever it is not in use. The spout, often attached to a hose, pulls down from the faucet head with the help of a counterweight situated on the neck. The hose can effectively help the spout to retract appropriately. Pull-down faucets have tall, gooseneck spouts and are excellent for deep sinks.
Pull-out Faucets
Like pull-down spouts, pull-out spouts feature inbuilt sprayers that function as stationary spouts whenever the pull-out feature is not in use. The spout efficiently pulls out and forms one of the best solutions for rinsing vegetables or cleaning the sink. They feature shorter spouts and longer hoses than pull-down models. They cover larger areas and are ideal for double sinks. Besides, these options are ideal for filling pans and pots from the countertop.
Spout Design
Apart from the sleekness of the entire fixture, the spout design is another factor that you should consider since it enhances your fixture's usability and convenience. The two most popular spout designs include;
Straight Spouts- They are generally more compact and are comparatively cheaper in price. However, they leave very little room underneath the spouts for filling your larger cookware.
Gooseneck Spouts- They are relatively bulkier and will take a little more space than their straight counterparts. However, these models are preferable in busy kitchens that use larger pots, pans, and cookware since they take pride in larger clearances.
Whichever spout design you opt for, ensure that it gives you sufficient clearance for vital kitchen activities such as cleaning, rinsing, and filling. Also, ensure to keep it proportional to your sink, lest everything end up looking odd and spoils the general appearance of your kitchen.
Finish
We all like delicious and tasty meals. But the best chefs also prefer preparing meals in classy kitchens, antique or otherwise. This is why the type of faucet finishes matters a lot when you go shopping for a kitchen faucet.
The most common finishes that you will find in the market include chrome, nickel, matte black, platinum, pewter, and stainless. The kind of finish you choose goes beyond the appearance to determine cleanability, durability, and resistance to corrosion, watermarks, smudges, and fingerprints.
Durability
Who wants to be in the market shopping for a similar product every too often?
So, away from convenience, appearance, usability, and performance features, faucets, like every other fixture, should be reliable and durable to serve you without the need for consistent repairs or replacements.
On this count, the market has various faucets made from plastic components or an array of metallic options. Plastic faucets, or those with significantly more plastic components, are favorably priced but very prone to defects, breakage, and malfunctions. So, you should either prepare for high maintenance costs or avoid plastic faucets altogether.
Brass and stainless steel remain the ultimate construction materials for faucets and other plumbing fixtures. They are durable, lead-free, and boast of better quality.
Installation and Repair
While faucet installation and repair are independent topics, they are equally essential considerations to look out for when shopping for kitchen faucets. It would be best to have a sink faucet that is easy to install and comes with all the installation accessories.
You will also need to look out for the repair mechanisms of your faucet. Therefore, choose a faucet whose spare parts are easy to find.
Brand
What is the first consideration that comes to your mind when you want to buy a new ride? The brand will most likely be the first on your list. And like vehicles, faucet brands determine the system's reliability and performance.
The faucet manufacturing industry's major players include Delta Faucet, Moen, Glacier Bay, Kohler, American Standard, Kraus, and Pfister, among others. These brands have a remarkable reputation.
Conclusion
That's it, comrades.
While this must have been a long read, we bet that you can now go shopping for a faucet based on the right information. Many models may not score highly on all fronts, but you need to prioritize durability, convenience, and functionality. Finally, ensure that based on the above shopping considerations, choose a model that meets your needs.
Please Rate This Article
SEND